This year's PADC Awards proved to be a big night out for Wunderman Thompson Perth with a dominant haul of 15 awards. Their total included the Best of Show award, 3 Gold Skulls, plus 5 Silver and 6 Bronze awards. In addition Wunderman Thompson creative Luke Williams took home the Diamond Skull and the Art Director of the Year award and Matt Wilson was named Copywriter of the Year. Block Branding, The Brand Agency, Rare and Rhythm Content also enjoyed frequent visits to the stage.
This year's PADC Award night on Friday night saw a record 105 awards handed out.
Wunderman Thompson's Anglicare WA 'The Cold Campaign' was the star of the night winning Best of Show and 2 Gold Skulls. The agency also took home another Gold Skull for WA Ballet 'Light & Shadow' in the Print Advertising category.
Silver awards for Wunderman Thompson included 'Dracula Comes to Crown' in Radio; Western Power 'Make the Safe Call' in Film; RAC 'Key Lines' in Out of Home; ' Search This' in Film and 'Beautiful Ningaloo' in Radio.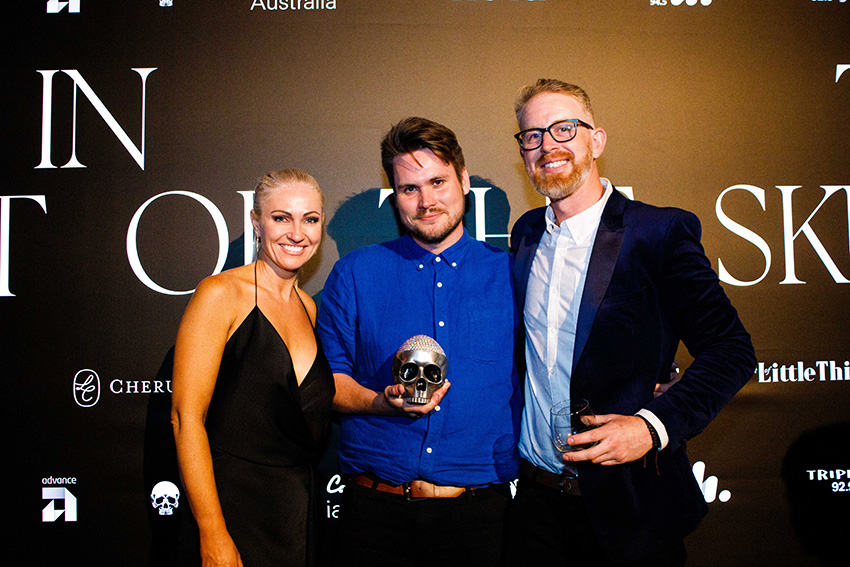 Block Branding also put up a dominant showing taking home 11 awards including 1 Gold, 6 Silver and 4 Bronze. Block scored Gold in the Publications category for Black Swan Theatre Company – 2020 Season.
Rare also were awarded a Gold Skull in the Digital for Good category for 'Distraction is Never Funny Around Buses'. The campaign also picked up a Silver and a Bronze.
A Gold Skull went to SWIM Type in the Design Category for 'Till Death'.
Other agencies to do well were The Brand Agency (5 Silver, 6 Bronze) and Rhythm Content (5 Silver, 4 Bronze)
PADC WINNERS TABLE
WUNDERMAN THOMPSON – BEST OF SHOW; 3 GOLD; 5 SILVER; 6 BRONZE
BLOCK BRANDING – 1 GOLD; 6 SILVER; 4 BRONZE
RARE – 1 GOLD; 1 SILVER; 3 BRONZE
SWIM TYPE – 1 GOLD, 1 SILVER
THE BRAND AGENCY – 5 SILVER; 6 BRONZE
RHYTHM CONTENT – 5 SILVER; 4 BRONZE
MARKETFORCE – 2 SILVER; 4 BRONZE
303 MULLENLOWE – 2 SILVER; 3 BRONZE
&PARTNERS – 2 SILVER; 2 BRONZE
THIRD STORY PICTURES/AT CREATIVE – 2 SILVER; 1 BRONZE
OKMG – 2 SILVER
MADE IN THE PILE – 1 SILVER, 1 BRONZE
SANDBOX – 1 SILVER
TWO FROM TWO – 4 BRONZE
GATECRASHER – 2 BRONZE
ANTHOLOGIE – 2 BRONZE
WHAT'S THIS – 2 BRONZE
In the Student category Isaac Redway and Jack Robertson were awarded the Advertising Skull, Imogen McCarthy the Design Skull and Sandra Lopez and Chloe Mitchell won the Digital Design skull.
The Diamond Skulls went to Luke Williams (Art Director of the Year), Matt Wilson (Copywriter of the Year), Tim Count (Composer of the Year), Sam Price (Digital Talent of the Year), Ting Sia (Designer of the Year), Martin Wilson (Director of the Year), Maya Halilovic (Young Talent of the Year), John McGovarin (Editor of the Year), Matsu (Photographer of the Year) and Justin Braine (Sound Designer of the Year).
Photos: Claudia Rose, Fifth Avenue Photography.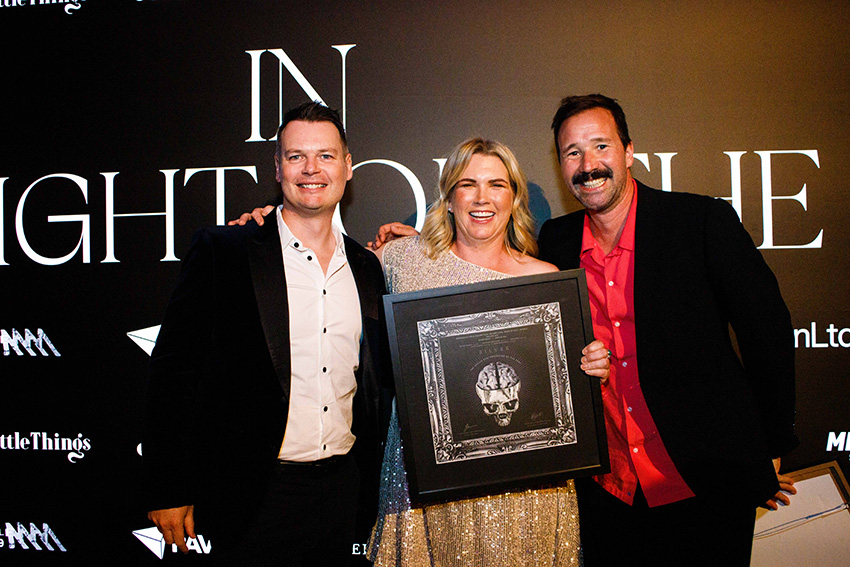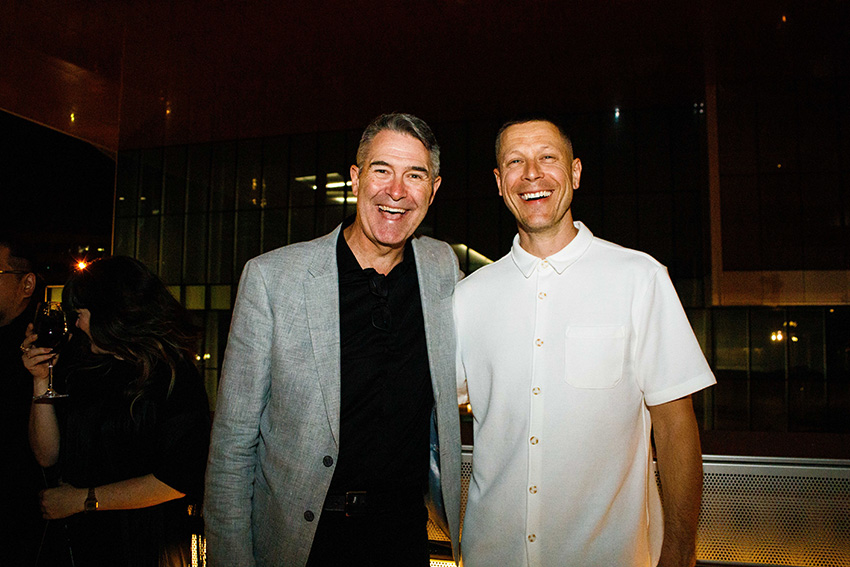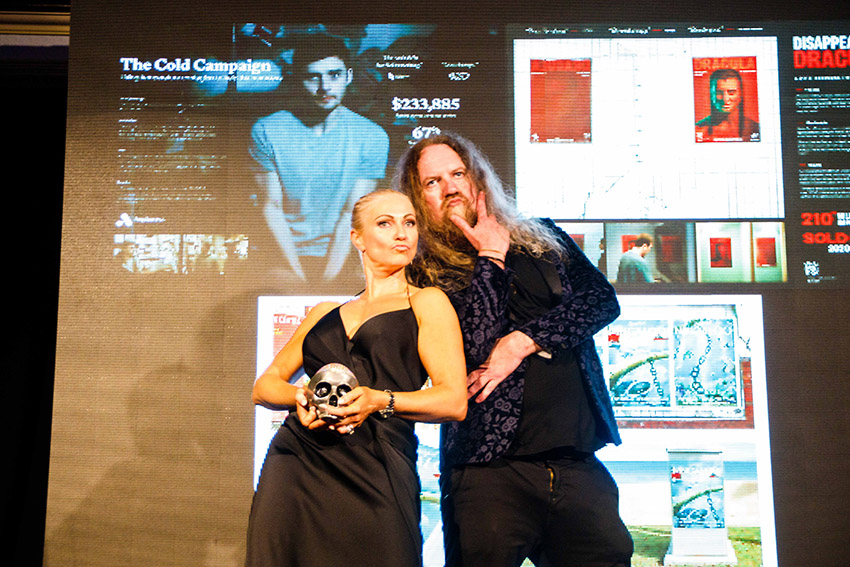 Josh Edge's somewhat-abridged PADC President's Speech
Thankyou for showing up tonight, and being such a big part of what makes our industry so great.
Thankyou for being part of the rollercoaster of great work, shit work, tears and laughs and dickheads and absolute champs (sometimes all at the same time).
Thankyou for putting up with the client requests and the last minute changes and the whinging suits and the even more whinging creatives.
Thankyou for buying a ticket to our little awards show after a crazy couple of years, and showing up in numbers that legitimately made me proud and a little teary and made me think, "Yeah, Perth is OK."
Thankyou for hanging in there and making work that doesn't suck, and politely ignoring the stuff that does suck on Campaign Brief, and for sticking up for each other through the good times and the not-so-good.
Thankyou for trying to make some money in this town, and for holding on for dear life, and staying friends, and for nicking down to the pub when it all gets too much.
Thankyou for supporting diversity, and bringing more inclusion into the agencies and the industry and showing up to our events when we bang the drum for more of everyone who doesn't look like… well, me, for starters (that means you, Matty Wilson).
On a personal level, thankyou to Raf and Rikki, the two 'R's that get me out of bed and then back into bed each day.
And to the rest of you, again, thankyou for being part of Perth and WA creativity and supporting local producers and creatives and independant agencies and pushing back on clients escaping to the East by doing better, smarter work.
Thankyou for our incredible volunteer committee, our Vice President Mel Radman, Ting Sia, Annie Sullivan, Cam Jones, Rachel Wong, Maurice Melchers, Grady Habib, and Gabi Fountain and Joseph Dennis for the incredible designs on the Skulls campaign this year, and especially Claudia Brazier, who has gone so far beyond that she's tipped herself over the edge a few times.
And lastly, thankyou to Tia Brazier, the hardest working woman in show business. Nobody could ever understand what Tia has done to keep this club and this show alive and thriving over an insane couple of years. She's dedicated, she's smart, she's an absolute hard-arse who terrifies me and inspires me and has spent more time on the phone to me this year than literally any other person on the planet. Whatever you feel tonight, whatever inspiration or pay rise or heart swelling pride happens to you tonight, it's at least, in part, due to this lady. So give yourselves, and your PADC, a round of applause and enjoy yourselves.
We've all bloody earned a party.
This year's judging panel were:
Chair of Skulls:
Vince McSweeney, McCann Central UK
Creativity & Craft Panel:
Anna Fawcett, Filmgraphics Entertainment
Debra Weiss, Photography Creative Consultant
Mark Carolan, Saatchi & Saatchi LA
Tim Seddon, Google Japan
Vince McSweeney, McCann Central UK
John Fragomeni, Digital Domain US
Gavin Shore, McCann Leeds
Emma Robbins, M&C Saatchi Melbourne
Brand & Design Panel:
Craig Parsons, Parsons Branding Ireland
Eric Benitez, TBWA Melbourne
Nick Ace, COLLINS USA
Paul Garbett, Garbett Design
Prue Jones, Fjord
Vince McSweeney, McCann Central UK
Marketing & Communications Panel:
Ralph Van Dijk, Eardrum
Russel Fox, M&C Saatchi Melbourne
Vince McSweeney, McCann Central UK
Robert Solomon, Solomon Strategic
Nick Cooper, McCann Worldwide
Metal Review & Best of Show Panel:
Vince McSweeney, McCann Central UK
Emma Robbins, M&C Saatchi Melbourne
Prue Jones, Fjord
Russel Fox, M&C Saatchi Melbourne
Student Skulls Design:
Alby Furfaro, 303 MullenLowe
Brett Layton, TwoFromTwo
Melissa Radman, Wunderman Thompson
Student Skulls Advertising & Film:
Tim Newton, Wunderman Thompson
Tom Wilson, Kiosk
Rikki Burns, Marketforce
Student Skulls Digital Design:
Jay Hollywood, Humaan
Maurice Melchers, Marketforce
Monique Gordon, Rare