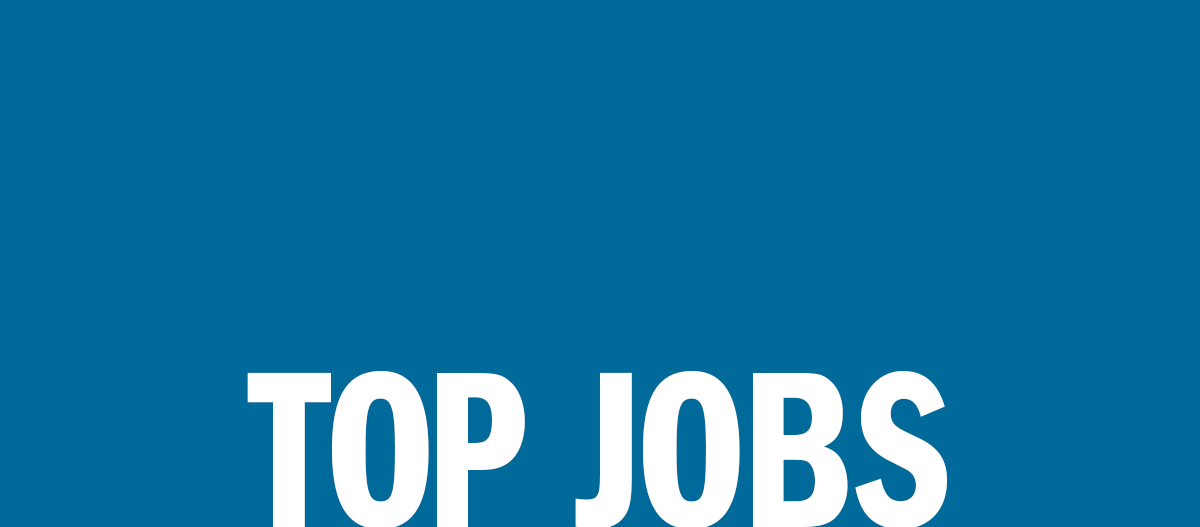 Each week Campaign Brief WA posts positions available within the WA advertising, media & marketing industry. Email adam@campaignbrief.com and kim@campaignbrief.com (please place 'Employment Opportunities' in the subject) with the details of your vacancies by 5.00pm Tuesday for listing on Wednesday. Listings are FREE for Campaign Brief WA magazine subscribers or $50 (inc. GST) for non-subscribers for a two-week listing. Recruitment consultancies by negotiation.
__________________________________________________________________________________
Marketforce – Account Director
Do you think strategically? And enjoy using creativity to solve problems?
Marketforce is looking for an Account Director to work collaboratively with clients and internal teams to develop customer-focused solutions to complex communication challenges. We are looking for someone to lead some of Perth's top client accounts
You are…
Curious, collaborative, and candid
Someone who thrives on having the responsibility to find value and growth for clients
A fine manager who can oversee client relationships across a portfolio of accounts.
Happy to get your hands dirty and manage the end-to-end campaign requirements from strategy through to delivery
Expert at developing and cultivating relationships with client senior management
A trouble-shooter, who enjoys solving issues with senior clients and their teams
Widely experienced in budget, campaign and time management across large budget integrated campaigns
Adept in developing and delivering compelling client and new business presentations
an experienced marketer, with a minimum of 7 years in a client-side or agency marketing role
well-educated, with tertiary qualifications in marketing/ advertising or related field
good on the tools, with intermediate/ advanced skills in Microsoft Office
great with people, possessing relevant skills and experience in people management
Who we are…
Marketforce is a Perth based creative advertising – has been for over 45 years. We're an old agency with a young heart and pride ourselves on using creativity to solve any problems. We are a part of the Clemenger BBDO Network, meaning we are a part of the world's most awarded agency network. Our network mantra is creativity is always the answer; we embody this in every area of the business. We have a long history of world-class creative work and that all starts with the right strategy.
If you think you're our new Account Director… apply now
Email your CV and covering letter to Sarah Sawdon (Head of Client Services) by COB Tuesday 15 June – ssawdon@marketforce.com.au
__________________________________________________________________________________
Bonfire – Digital Advertising Specialist
Bonfire isn't just another digital marketing agency. We deliver results for our valued customers – businesses whom we see as partners, that have a real-world impact on their bottom line. Our focus and passion for data-driven outcomes have cemented our position as one of Australia's leading digital performance agencies. Return on investment (ROI) is the foundation of everything we do.
As we continue to grow, we have an exciting opportunity for a Digital Advertising Specialist to join the Bonfire team. Reporting to the Digital Advertising Manager, this position will support and work closely with other team members in the Digital Services teams.
Your key responsibilities will include: 
Developing and optimising paid advertising campaigns across various networks such as Google Ads & Google Shopping, Facebook, Instagram, LinkedIn and more.
Consulting with clients to understand their business and translate that into a PPC strategy that will achieve their objectives.
Reporting and presenting on results using real-world ROI data.
Delivering exceptional customer service to internal teams and external clients.
To be successful, you will need:
Professional Google and social network advertising experience working with clients or in-house.
An understanding of data and analytics.
A critical eye for detail.
Excellent communication and active listening skills.
About Bonfire…
We're a company with a great culture and, above all else, we're looking for a talented person who fits in with that. We have strong values (we created them together as a group), we have a talented team with a genuine focus on high performance – and a growing, profitable business with all the benefits that come along with it.
We're family and lifestyle friendly, with flexible working if needed. We have an incredible working environment in the heart of Subiaco. We work together to do the absolute best job for our clients, with a focus on delivering real (bottom line) client results and long-term client partnerships. Oh, and we've been recognised by our industry for our work – which gives us regular opportunities to socialise and celebrate our success.
If this sparks your interest, please apply via SEEK.
__________________________________________________________________________________
TADWA – Communications Officer
TADWA (Technology for Ageing and Disability) is a well respected and highly innovative provider of home modifications, assistive technology and custom solutions to help older people and people with disability to live safer, better quality and more independent lives.
TADWA is a not-for-profit organisation, balancing commercial competitiveness with compassion. It's incredibly busy, but we offer flexible working conditions and the team is really passionate about what we do.
We are seeking a hands-on communications all-rounder, with a digital and social focus. Experience is not as important as energy, creativity and a capacity to learn.
This role is responsible for the design, development and placement of creative communications materials that will inform, educate and excite internal (staff) and external (prospective customers, clients, funders and partners) stakeholders.
The Communications Officer will leverage the domain expertise of Business Unit Managers to effectively tell the story of TADWA to increase awareness of our services and generate leads.
Importantly, the Communications Officer will be the 'brand custodian', ensuring that all internal and external materials conform with style standards and correctly portray the TADWA persona to the intended audiences.
Key Responsibilities (ultimately will be determined by the capacity of the successful candidate)
Internal Stakeholders
Maintain TADWA Team Portal, ensuring content is fresh, relevant and discoverable;
In conjunction with Business Unit and Functional Managers plan, develop and execute a staff communications program to ensure staff remain informed and engaged with, and proud of, the organisation.
Customers, Clients, Prospects, Funders and other Stakeholders
In conjunction with the Manager, Sales & Partnership, plan, develop and execute an external communications program to support TADWA strategic and sales objectives;
Compile, write and design content for regular relevant communication to key stakeholders;
Develop and maintain media, stakeholder and other useful contacts list.
TADWA Micro-Documentaries and TADWA Videos
Work with the Business Unit Managers to proactively select case studies that support TADWA's strategic priorities, and other promotions or campaigns;
Conceive compelling story angles, liaise with relevant internal and external stakeholders to arrange appropriate interviews;
Produce, or contribute to the production of, TADWA Micro-Documentaries and other video content.
Social Media and TADWA Website
Review and maintain the TADWA website to ensure currency, relevance, completeness and 'freshness';
Identify and / or create engaging, relevant content for social media including, but not limited to, Facebook and LinkedIn;
Identify opportunities for stories and media opportunities to raise awareness for TADWA services to support strategic priorities;
Plan, script and produce video content.
General Marketing Activities
Liaise with TADWA business units and organise marketing collateral such as fact sheets, flyers, videos and other promotional or campaign materials;
Provide organisational support in development and design of customer facing materials (e.g. service agreements, forms, letters, etc.);
Maintain consistency of branding across all communications forms, in compliance with TADWA Style Guide;
Identify and evaluate opportunities for branded merchandise, and manage associated inventory.
Maintain a simple Digital Assets Management system for storing and discovering photos, videos and other media assets.
Events
Identify and evaluate relevant events and expos for participation and consideration;
Liaise with event organisers for participation costs and details;
Organise the planning and attendance of events and expos and liaise with key stakeholders to ensure appropriate attendance and representation of relevant TADWA products and services;
Lead internal and external events communication.
Administrative
Conduct surveys and analysis of the same where required;
Report on specific campaigns to ensure effective communications;
Ensure Promapp processes are kept up-to date for the Communications function;
Promote and ensure compliance with process maps and work instructions in Promapp;
Ensure prompt approval of new or amended process maps and supporting documentation;
Ensure adherence to OHS principles, policies and procedures as amended from time to time;
Undertake any other duties as reasonably directed by the Manager, Sales and Partnerships.
Essential:
Highly developed digital communication skills and experience including social media, website, eNewsletters, video;
Highly developed written communication skills across all forms of communications material;
Creative flair in visual design and copywriting;
Strong interpersonal and oral communication skills and demonstrated ability to work well in a team environment to achieve team goals;
Sound organisational and time management skills, the ability to juggle multiple concurrent projects and the ability to work with minimum supervision;
Strong influencing and organisational skills, including the ability to achieve outcomes without direct reporting relationships;
Strong analytic and reporting skills;
Competence in communications software such as InDesign or LucidPress; Adobe Premiere or Final Cut Pro.
National police Clearance;
Current Driver's Licence.
Anticipated salary around $80k with NFP salary packaging available.
__________________________________________________________________________________
Block Branding – Account Director / Senior Account Manager
Block is expanding and we are seeking an experienced account director or senior account manager looking to step up, to join our growing team of talented and passionate people.
Block is for branding business not as usual. We believe that creativity can be the most powerful force in driving a business to success. Our ambition is to uncover the potential in all our clients' businesses through the development of ideas. Ideas that work hard, that clearly define who they are and that set them apart from their competitors.
The person we are searching for will be smart, driven and have at least 5 year's experience at account director or senior account management level, be exceptionally organised and will embrace our Block values of loving a challenge, being invested, owning it, considering it and doing the right thing.
We are looking for someone who takes ownership for their projects from start to finish and has strong attention to detail, as well as the ability to see the big picture. You will be a great communicator and collaborator, love working with a variety of clients from all sectors, can build strong client and internal team relationships and take pride in the results of the team's combined creative and project management efforts.
The person right for this role will:
Develop excellent client relationships by looking after the day to day needs of our key clients and ensuring that their business objectives are being met.
Grow existing business by actively identifying new opportunities for clients that deliver them value.
Write excellent creative briefs and confidently present creative concepts to clients.
Seamlessly manage project schedules and budgets.
Build and maintain productive working relationships with clients, suppliers and other team members and ensure we meet and exceed expectations.
Ensure final product is on brief, on budget, on time and on brand.
Communicate clearly across the business and help build a dynamic, supportive and collaborative team environment.
In return, you'll be rewarded by working in one of WA's most creative independent agencies, will be surrounded by equally as passionate and talented people, will work on some exciting and exceptionally creative client projects and will enjoy working in an inclusive and fun environment.
If this sounds like you, please submit a cover email outlining why you are the right person for the role, along with your CV to Natalie Jenkins, CEO at careers@blockbranding.com . We'd love to hear from you.
__________________________________________________________________________________
Equilibrium – Senior Account Manager
We're one of Australia's leading digital agencies with a reputation for quality technical delivery. We work with some of Perth's leading brands, applying our skills to deliver large scale digital projects. We're a team of experienced digital specialists that love what we do, and have fun doing it!
The Role
We are looking for an experienced, dedicated and proactive Senior Account Manager with strong digital experience to join our team. You will establish trusted partnerships with our clients and achieve quality results. You will be responsible for a number of high profile accounts and will:
Grow existing clients by actively identifying opportunities, producing compelling proposals that align to the client's objectives and deliver value to their organisation.
Mobilise and deliver on digital roadmaps for each of your clients
Manage retainer and project timelines and budgets.
Be meticulous at capturing and writing briefs and requirements.
Lead effective client workshops and meetings.
Translate technical concepts and issues to non-technical clients.
Work closely with Project Managers to organise, prioritise and manage a combination of retainer and project-based work.
Smile, laugh, motivate teammates and play a mean game of table tennis.
About You
You will be enthusiastic, proactive, professional and have amazing communication skills. You will also be exceptional at building relationships and love all things digital. With a minimum of 4 years' experience in a relevant role, you will have a broad understanding of Digital Agency and consultancy services such as UX, CX, Design, Development, Digital Marketing and Analytics.
To Apply
If you would like to be part of a high performing team, working for blue-chip clients then we'd love to hear from you!
__________________________________________________________________________________