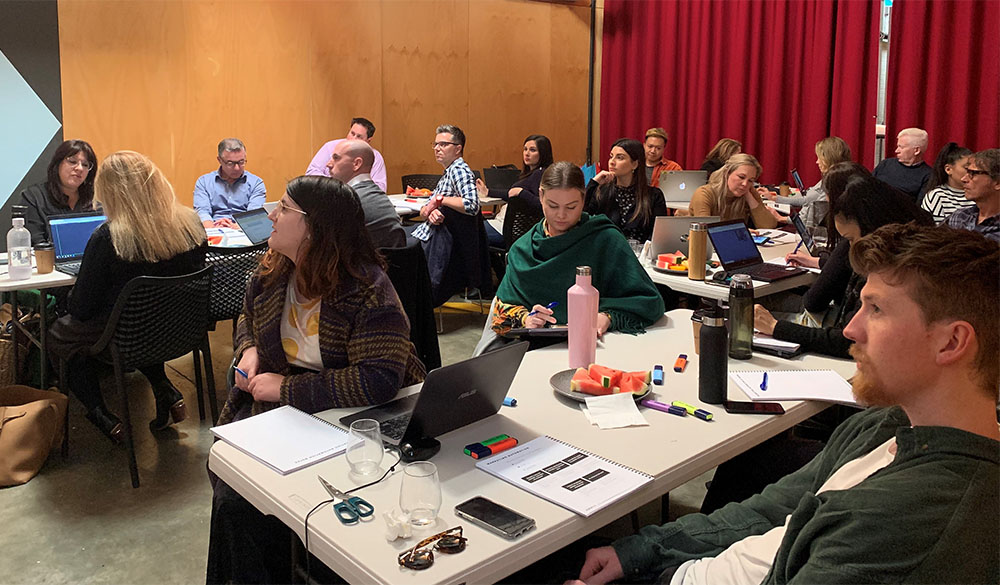 A packed house of Longreach staff and clients this week took advantage of Russell Easther's Digital Marketing Essentials course with a two-day exclusive seminar held at the Design Community in East Perth.
Longreach Director, John Driscoll said "Having attended one of Russell's seminars previously, we were confident that our clients would benefit from the depth and breadth of topics covered and we were certainly not disappointed".
"Initially we were a little concerned that the two-day course might be too much of a time impost for our clients, but we were overwhelmed by their response and commitment to the course and the way that both agency and clients could expand our digital knowledge together, forming some common understanding and language around the development and measurement of digital communication strategies moving forward."
"Too often clients and agencies operate in silos with each protecting their intellectual property or digital turf," said Longreach CEO, Angela Nutton. "Our hope through this seminar was that we would see the benefits of client and agency learning together and continuing to build on our shared communications objectives."
The rapid evolution of virtual meetings helped bring the seminar to Perth with Easther presenting live via an integrated comms network providing for total engagement of all participants.
"It was great to be 'virtually' back home in Perth to deliver our most popular, and customisable program to both Longreach agency staff and clients. The virtual format is proving to be a real hit with marketers, increasing their working knowledge, capability and confidence across digital marketing channels. Due to the overwhelmingly positive feedback, we look forward to running more live, virtual workshops from Melbourne, tailored specifically to Perth-based marketing and communications professionals".
The success and popularity of the course has seen immediate plans put in place for a repeat scheduled to cater for other client team members unable to be present this week.
Details of the upcoming course are available from Longreach.