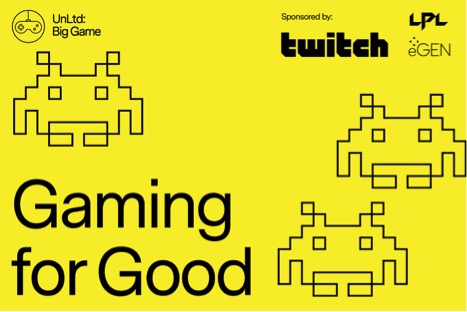 UnLtd, the industry's social purpose organisation, has launched a virtual gaming tournament for the industry titled Big Game.
The tournament, sponsored by Twitch and supported by LetsPlay.Live and eGen, sees 22 teams across the industry go head to head in a game of Rocket League over five weeks.
The first round of qualifying games kicked off this week and the next round, commencing on Tuesday 12 May, will be broadcast live on Twitch.
The winning team will not only get the bragging rights of being the gaming champions of our industry but will also receive a 'money can't buy' prize donated by Twitch. There is also a prize up for grabs for best supporting team who can come up with the best virtual chant for their team in the game chat.
Jenni Hayward, head of events at UnLtd said there was a big appetite for a gaming event in the industry: "We've been overwhelmed by the interest and support for Big Game. Turns out there are many keen gamers in our industry and the lock-down has given us the perfect excuse to trial a virtual event in a field that is rapidly growing. We can't wait to tune into all the action from the comfort of our own sofas!"
The funds from the event will go towards UnLtd's work supporting charities helping children and young people at risk.
Ricky Chanana, head of sales AUNZ for Twitch said it was a cause they were keen to support: "Gaming has the power to connect people, and what better way to support at-risk youth than through friendly competition and building community? We are pleased to provide a forum to not only chat, but also interact when we can't meet in person."
The teams taking part in Big Game are: ACM, ARN, Carat, Mediacom, Foxtel Media, GroupM, IPG Mediabrands, Sizmek, Nova, Network 10, Nine, OMD, oOh! Media, Publicis, PHD, Quantcast, REA Group, Seven West Media, The Guardian, Val Morgan, The Trade Desk, Verizon Media and Twitch.
Says Willie Pang, CEO of Mediacom: "Our industry is full of talented and passionate gamers and I'm looking forward to seeing who will be crowned the champions of this inaugural event. It's such a fantastic way to bring the industry together virtually doing something so many of us love and all whilst helping children at risk."
Says Duane Mutu, managing director of LetsPLay.Live: "Having worked with the best players, teams, organisations and sports groups in the region, this is a great opportunity to now work with the best media companies in an esports landscape."
Big Game will be live streamed on Twitch every Tuesday at 4pm for 4 weeks starting on Tuesday 12 May through this link. UnLtd is encouraging industry to tune in to support their teams and take part in the audience competition for coming up with the best chant for their team.
Brad Timmins, managing director, eGEN said it was time to play a part together: "It's no surprise that playtime and viewing of esports & gaming is on the rise, and player to player communication is playing such a critical role in helping youth cope with stress and anxiety brought on from the COVID-19 climate. The World Health Organisation and the gaming industry have created the #playaparttogether movement and eGEN are delighted to have played a part in helping the media industry #playaparttogether."