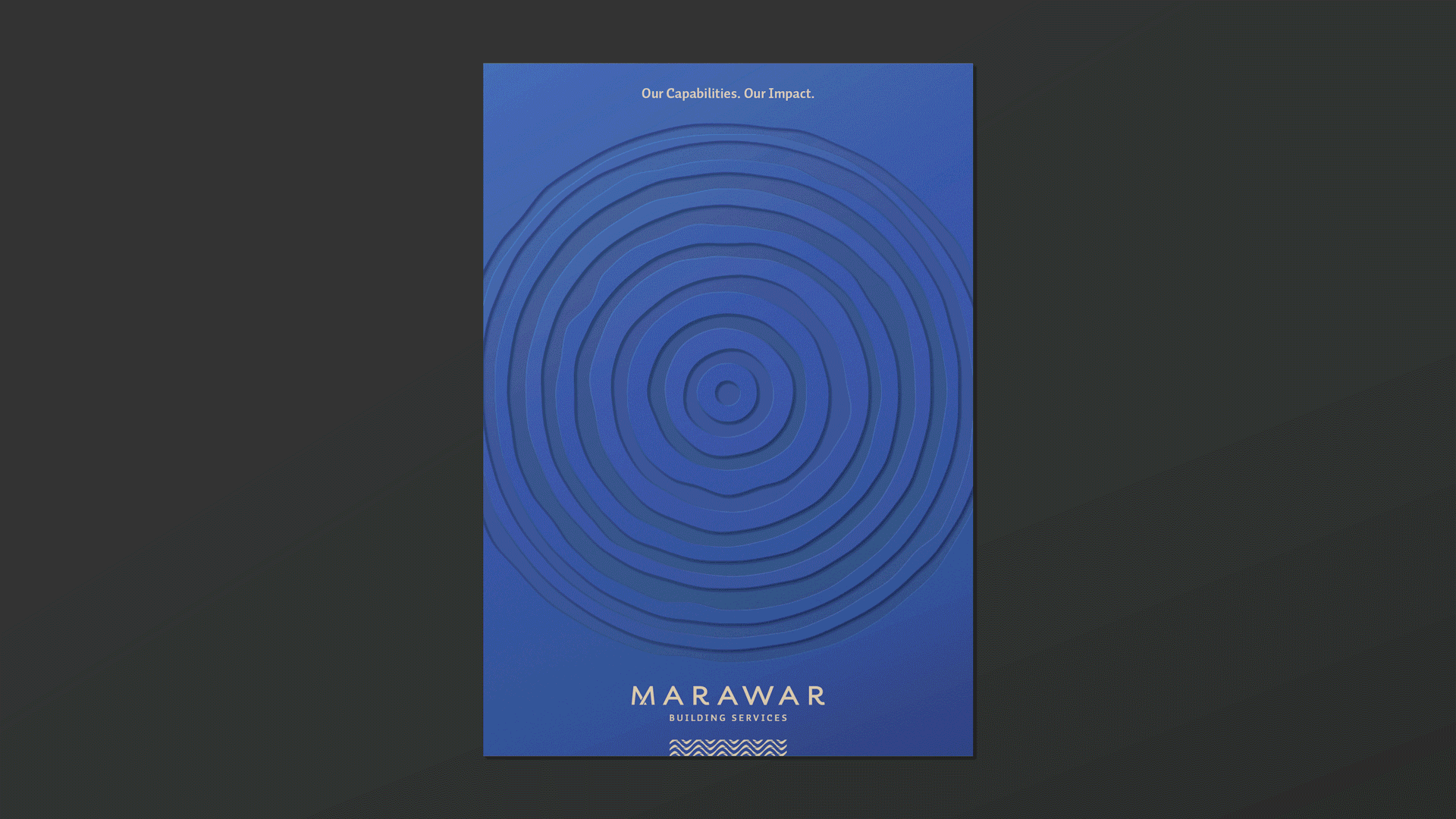 Marawar Building Services is transforming Indigenous lives through long-term employment opportunities in the construction sector. It challenged Block to create a brand identity and capability statement that bring its mission to life.
When Marawar Building Services launched in 2018, there were 33,000 apprentices training to work in Western Australia's construction industry – of which just 741 were Aboriginal. To bridge the gap, Gerard Matera partnered with development firm M/Group to launch Marawar Building Services – an Aboriginal-owned building services company that is transforming Indigenous lives through meaningful, long-lasting employment opportunities in construction.
"There is a genuine desire for reconciliation in Australia yet Aboriginal people are still excluded from many industries – construction is a case in point. We want to be the biggest employer of Aboriginal apprentices in the State," explains Matera, a Nyoongar Traditional Landowner and Director of Marawar.
"Every single apprentice we have has been long-term unemployed. The more struggles they have, the more I want to help. We talk about the ripple effect a lot at Marawar – it only has to start small to create a big opportunity. We asked Block to create a brand identity that embodies our vision to provide a strong, sustainable future for Aboriginal people, culture and country by being a market leader in building and maintenance."
A new brand identity and capability statement position Marawar as a highly professional and effective organisation that delivers on time and on budget. It also brings their incredible story to life, reinforcing the greater good that the company seeks to do, while highlighting achievements so far. In 2018, in Marawar's first year, 25% of its workforce was of Aboriginal heritage. Today, that figure is 55%.
Mark Braddock, Creative Director and Co-Founder at Block, explains: "Marawar delivers design, construction, civil works and maintenance services. But as an Aboriginal-owned enterprise, it does so much more – for its clients, for our community, and for WA. We interviewed employees, apprentices, suppliers and customers to understand the impact Marawar is having on their lives and develop more meaningful messaging. We also created a 'ripple' device to represent the far-reaching social and cultural effect of the work Marawar does. Each ripple represents the individual, their family, the business, and ultimately the community they are building. This idea became a dominant element in their branding collateral."
Natalie Jenkins, CEO of Block, says: "It's been a huge honour to partner with a brand that has such an ambitious vision – a company that supports First Nations people who have occupied and cared for this continent for over 65,000 years. We hope our designs will help to raise awareness of the important work they are doing, their core commitments, partnerships and programs. It's a project we hope will challenge misconceptions and galvanize change".
Marawar (which means 'West' in Nyoongar) delivers a wide range of services in design, construction, civil works, and maintenance. Its portfolio of clients includes Bunnings, KMART, Quest, Officeworks and government agencies the Department of Communities and the Department of Finance. It is 50% owned by M/Group, an integrated property group focused on investment, development, construction and real estate services.
Client: Marawar Building Services
Agency: Block
Creative Director: Mark Braddock
Photographer: Mark Braddock
Art Director/Designer: Joseph Dennis
Interviewer: Meri Fatin
Content Writer: Paul Leonard
Illustrator: Joana Partyka
Account Director: Melissa Mailey