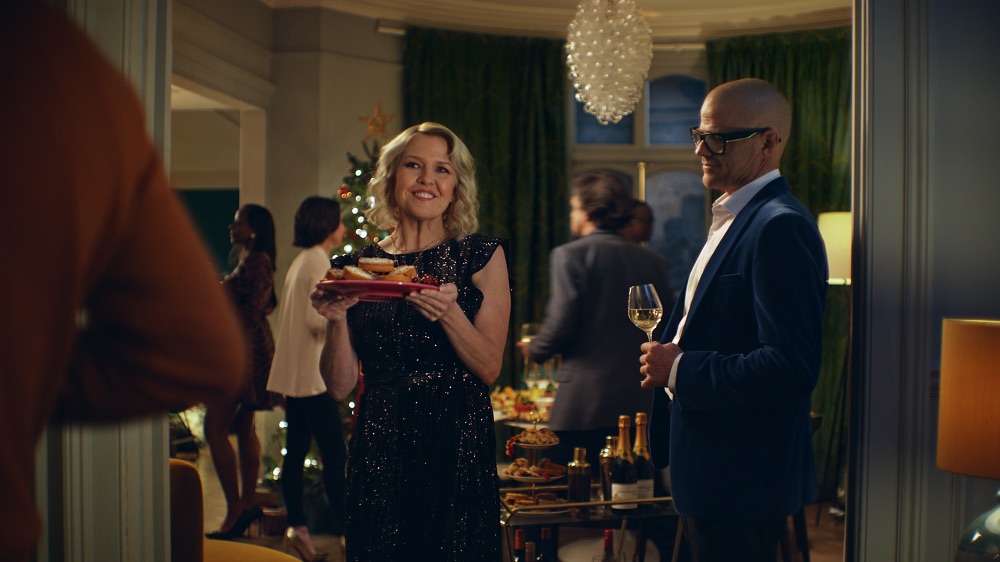 Waitrose has launched its Christmas campaign, 'You Can Taste When It's a Waitrose Christmas' via adam&eveDDB London, which puts delicious, quality Christmas food at the very centre of celebrations for this year's festive season.
The 60 second advert, featuring Extras star Ashley Jensen, showcases why "the best bit of Christmas is the food", no matter the time, place or occasion.
The fun-filled advert, shot by acclaimed comedy director Jeff Low, features a number of relatable Christmas scenes that Ashley Jensen trumps each time with Christmas food, from carolling to opening presents, hosting a Christmas party to enjoying a family Christmas feast. The scenes are infused with mischievous humour, with one featuring Jensen passing off Heston Blumenthal's mince pies as her own before attempting to serve them to him, and provide a glimpse of some of this year's festive favourites, including our Truffle Smoked Salmon, No.1 Truffle Prosciutto Crudo, Bronze Feathered Free Range Turkey, Heston Night Before Christmas Mince Pies, No.1 Fig, Honey & Walnut Christmas Pudding, Pork Apple & Calvados Stuffing, Gianduia Torta Da Festa and the festive classic, sprouts – but loaded with pancetta.
Says Martin George, customer director, Waitrose: "Food plays such a wonderful role in creating those special moments and we know how incredibly important this Christmas is to so many people, after we were unable to have all of our family and friends around us last year. We felt the feasting and celebrations deserved the spotlight in this year's campaign because after all, the best bit of Christmas is the food."
Says Heston Blumenthal: "My scrumptious Night Before Christmas Mince Pies and The Giant Cracking Penny make it even easier to be the ultimate host over the busy festive season, along with the other ready made goodies that you can pick up in Waitrose shops or online. Our Christmas treats mean that you'll still be able to wow your guests while also being able to focus on spending quality time together."
Says Ashley Jensen: "My favourite part of Christmas has always been the food, and all the wonderful occasions that come wrapped up in the festive season. It was an absolute pleasure to work with Waitrose on this year's Christmas advert and I will definitely be making sure I have that truffle-infused prosciutto on my shopping list."
The ad first aired on television on Tuesday 16th November during Emmerdale on ITV and The Great British Bake Off on Channel 4. It will also run on video on demand platforms.
Creative Agency: adam&eveDDB
Chief Creative Officer: Richard Brim
Joint Chief Executive Officer: Tammy Einav
Managing Director: Paul Billingsley
Creative Directors: Matt Gay & Feargal Ballance
Creatives: Molly Wilkof & Mark Shanley, Frances Leach & Chris Bowsher
Agency Producer: Mary Fostiropoulos & Sally Patterson
Account Director: Georgia Roca, Scarlett Aldridge
Planning Partner: Hugh De Winton
Senior Planner: ShuHan Lee
Legal: Tom Campbell & Trine Odin
Media Planning & Buying: MG OMD
Media Business Director: Georgie Skorzewski, Emma Gibbs
Media Account Manager: Ellen McPherson
Media Snr Executive: Tanya Nayee
Production company: Biscuit Filmworks UK
Director: Jeff Low
DOP: Patrick Meller
Producer: Kwok Yau
MD/Exec Producer: Rupert Reynolds-Maclean
Head of Production: Samantha Chitty
Production Manager: Thomas Green
Production Designer: Kem White
Wardrobe Designer: Michelle May
Hero Casting: Talent Republic
Editor: Saam Hodivala @ Shift Post
Post Production: Time Based Arts
Audio Post Production: Jon Clarke @ Factory Studios
Music Supervisor: Theodore Music
Product Films Production
Production company: Stink Films
Prod co Managing Director: Andrew Levene
Director: Leo Maguire & Rob Wilkins
Producer: Paz Parasmand
DOP: Matt Fox
Production Designer: Malin Lindholm
Editor: James Forbes-Robertson
Post Production: Coffee & TV