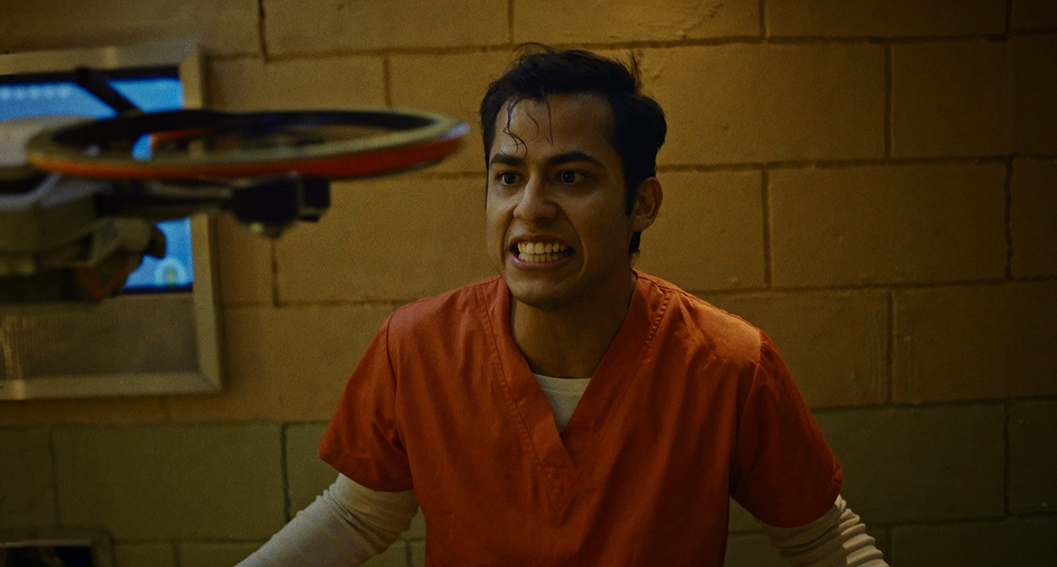 Northbridge-based animation and visual effects company, Last Pixel will take their seats at next week's 94th Academy Awards as the visual effects team for Please Hold, the Oscar-nominated live-action short film awarded the grand jury prize at the coveted Florida Film Festival.
Last Pixel, owned and managed by Rick Grigsby and David McDonnell, devised visual effects for the pitch-black satire, while working with the LA-based production mainly via Zoom during early days of the COVID pandemic.
KD Dávila (who also directed the short) said Please Hold was developed in frustration at viewing injustices in the news which she then drew on these examples of wrongful incarceration for the script, including the case of mistaken identity of a LA-based man who was wrongly imprisoned.
"They got a long way down the line before they realised he wasn't the guy they were after," McDonnell said.
Please Hold – which competes against four other nominees in the Academy Awards' short film category – addresses issues around mistaken identity with the extra layer of what technology can do to humans on top of it.
Protagonist, Mateo (Erick Lopez) is arrested by a police drone for an unknown crime and imprisoned within an automated system which escalates fear and uncertainty at his predicament.
The infuriating automated prison includes an interactive screen within each cell that could make any prisoner go insane, but it is the only means for prisoners such as Mateo to contact family and seek justice (at a price).
That's where Last Pixel and the WA crew came in to produce essential VFX by taking an inactive screen to make it seem interactive, so that it plays a key character role as well as by creating menacing CGI drones (computer generated imagery).
McDonnell said the Last Pixel team – who won the Innovation in Virtual Reality, 360' or Augmented Reality at the inaugural WA Screen Culture Awards in 2020 – created several drones seen in the facility and in the world, but the thing they spent the most time on was creating the police drone that flew in and arrested Mateo at the start of the short.
"The first drone viewers see had a very specific design to try and look like the police motorcycles they have in LA," says McDonnell.
"It took its stylistic nod from that and so it has a big, round plastic frontage and, it needed to look like it was built by the lowest bidding contractor, as well as looking semi dangerous.
"There's a taser and something that looks like it could be a gun, so there's this question of: 'What is the drone choosing?' while deciding between lethal and non-lethal force. This is obviously a huge topic, particularly in America, with what humans decide to do in these situations."
McDonnell said he didn't believe the team behind the short film which was produced on a crowd-funded shoestring budget thought they were necessarily making an Oscar contender.
"You work on these kinds of projects knowing that the films will generally be pretty good and play at festivals, but you're never really doing these things for any awards, certainly not in the genre sci-fi, Kafka-esque, satirical, absurdism piece thinking this will be in Oscar contention," he said.
"It's actually been a beautiful piece of serendipity really, that it has made it to the Oscars is a testament to the whole team really, and particularly KD and Levin's very clever writing and KD's vision.
"I think the reason it is in Oscar contention is that it is a film with purpose, it's not a film about stuff, it's actually got a message that's very now, even though it is a genre piece it is quite dramatic and very pointed, and it is making some pretty strong criticisms about how society, especially some of American society, is run."
Credits
Short film: Please Hold
Director: KD Davila
Writers: KD Davila, Omer Levin Menekse
Stars: Erick Lopez, John Alton, Doreen Calderon
IMDb link: https://www.imdb.com/title/tt11383280/?ref_=tt_mv_close
Run time: 18:31 minutes