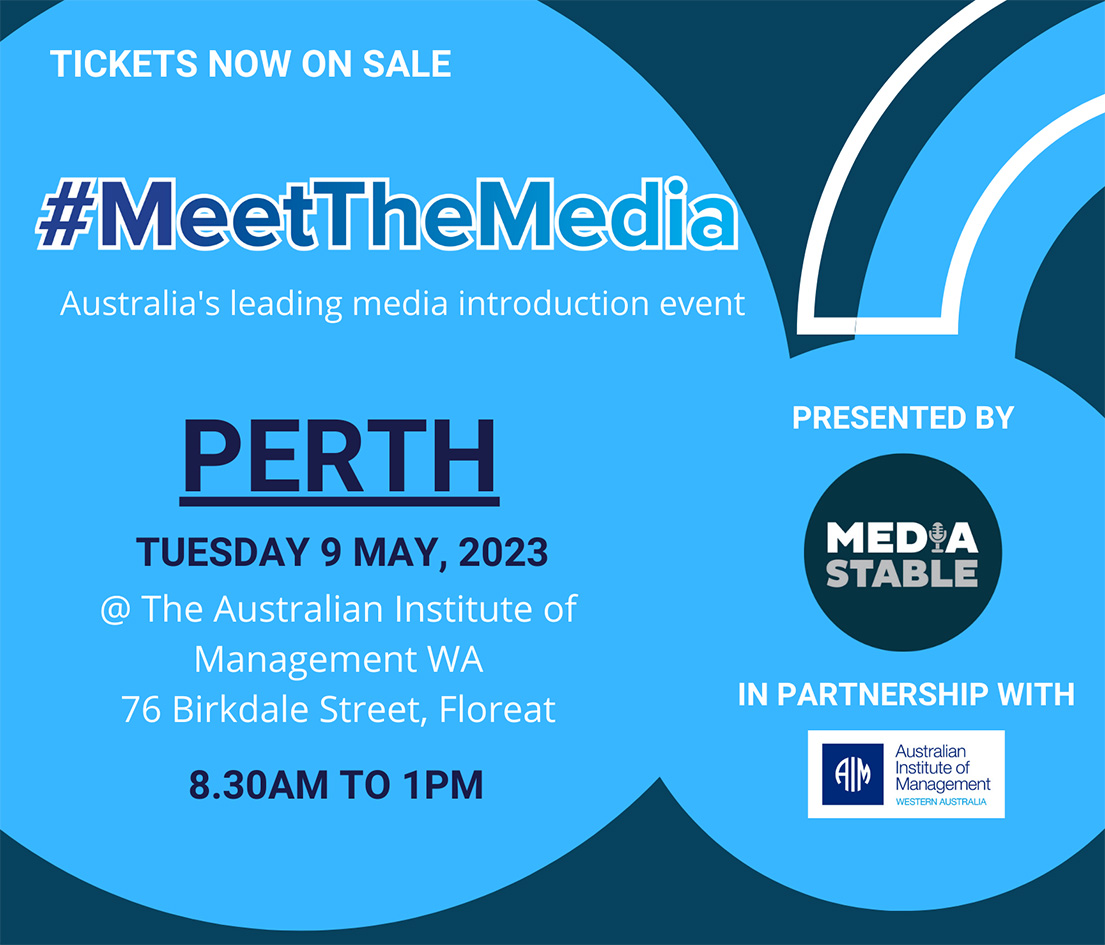 Seven of the Nine media attending this year's #MeetTheMedia are doing it for the first time with only two attending for a second time. The media landscape has changed from last year with some twist and turns resulting in a few invited media unable to attend due to media commitments. Gary Adshead was earmarked to attend last year but that was before he took over the morning show on 6PR from Liam Bartlett.
"We'd love to have Gary on the panel, but he will be broadcasting when the event takes place on Tuesday 9th of May." Says Nic Hayes, MD of Media Stable.
"This is a really exciting line-up of media for the 2023 season here in Perth." says Nic who is also the MC for this special event on the WA media calendar. Now in its seventh year. "There is something for everyone in this fine media gathering across key radio, television, newspaper, and online media programs."
#MeetTheMedia has been at the Australian Institute of Management Western Australia for the last four years and has never disappointed an attendee looking to understand how media works today" says Nic. Attendees have included key communications people from HIF, 777 Pharmacy, Bonfire, Goldfields, City of Joondalup, City of Perth, Rio Tinto, Perth Mint, and MSWA are just a few of the many well-known brands that are regulars at this unique event.
The tickets are already over 60% SOLD OUT as this will be the only #MeetTheMedia event in Perth in 2023.
You can snap up the last of the tickets here: #MeetTheMedia Perth Tickets, Tue, May 9, 2023 at 8:30 AM | Eventbrite.
Media in attendance:
Caitlin Paroczai – Business Reporter, The West Australian
Jerrie Demasi – Chief Crime Editor, 9 News Perth
Gemma Varone – Chief of Staff, 7 News Perth
Michele Gelle – Executive Producer, Perth Live, 6PR Drive
Neil Smith – Chief of Staff, 10 News First
Sean Cowan – Managing Editor, Business News
Hayley Sorenson – Opinion Editor, The West Australian
Simone Luker – Executive Producer, 9 News WA First 5pm
Christine Layton – Afternoon Show Presenter, ABC Radio