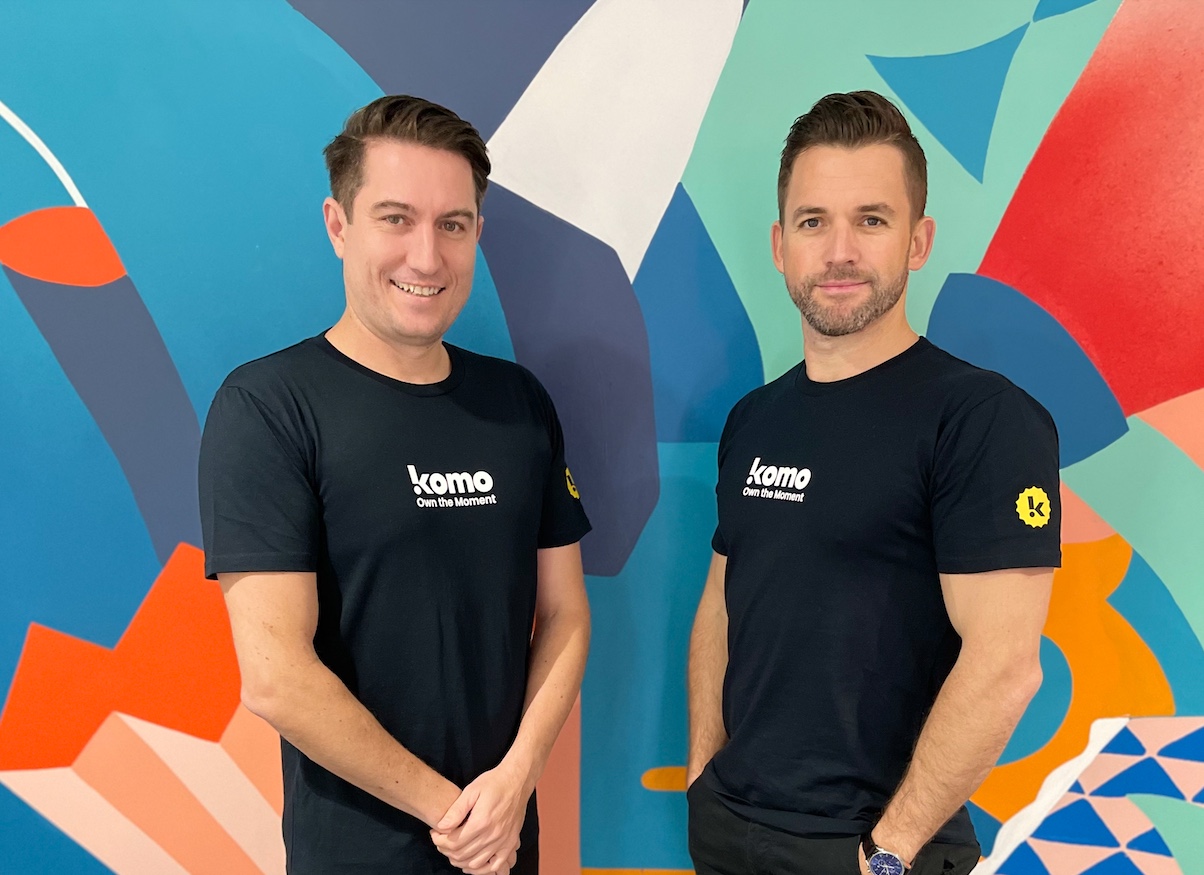 (Pictured L-R: Glenn Morton, CTO and co-founder and Joel Steel, CEO and co-founder)
Australia's leading customer engagement platform Komo Technologies has gone global. Opening an office in New York, Komo has taken its platform to the US as marketers increasingly seek to win and retain customer attention, through gamified and interactive campaigns, promotions, and reward programs to drive long-lasting loyalty.
The US move follows a year of significant growth in Komo's customer base, operations and platform offering, including substantial traction with US customers and partners. The Komo solution, a MarTech SaaS platform, brings digital social and experiential moments to life through more than 55+ games, promotions, competitions, and loyalty plug-ins such as badges and shareable digital player cards, as well as social and rich media integrations and rewards. It drives sales through trackable digital coupons and branded digital cards, and non-intrusively captures valuable rich zero and first-party data, which can be used to deliver more engaging and personalised content.
Komo, a self-service, no-code, SaaS platform making it easy to launch content and campaigns in hours, not months. Saving both time and money, Komo eliminates development resources and streamlines the process for the marketer without sacrificing the consumer experience. Komo delivers compelling content that wins and retains customer attention.
In the past year, the Perth-founded enterprise more than doubled its team from 10 to 24 employees, including signing their first US team member in North Carolina. In response to new business wins and rapid growth in its customer base that spans brands, agencies, hospitality, shopping centres, stadiums, broadcasters sporting leagues/teams and sports talent, the Komo offices are now in Sydney, Melbourne, Brisbane, Perth, and New York. Komo's growing client base includes Heineken, Fox Sports and the Foxtel Group, Woolworths, McDonald's, JLL, Goodman Fielder, Williams F1, San Churro, Commonwealth Games Australia, Australian Olympic Committee, Australia's premier men's and women's football competitions, the A-Leagues, and US-based company Patron Technology.
By the end of 2022, the introduction of an agency-specific solution for building interactive digital engagement campaigns, Komo for Agencies, attracted a growing client portfolio of leading agencies, including Havas, MKTG, M&C Saatchi Sports & Entertainment, Carat, and Octagon.
Early in 2023, Komo added loyalty and rewards to its engagement technology as part of its mission to disrupt the customer Loyalty & Rewards space.
Komo CEO and co-founder Joel Steel, who just made the move to New York says: "Only a fraction of loyalty and customer engagement programs appear to prioritise investing in experiences that truly delight their customers. This may help to explain why upwards of 50% of loyalty program members are disengaged with the programs they've signed up for. The Komo platform makes it easy to win and retain attention over long periods of time due to the ease of implementation, the versatility of the engagement tools and how and where companies can deploy them.
"Brands are increasingly seeking quality of attention over volume of impressions in an exceptionally distracted and privacy focused digital world. As marketers' ability to track consumer behaviour, gather data and command attention becomes harder, Komo is delivering a solution with technology that empowers marketers to maximise attention moments, cut through the noise, and capture zero and first-party data in a fun and non-intrusive way. That ultimately drives measurable business growth in a seamless, cost-effective manner."
Prior to entering the US, Komo was already making waves with a partnership with leading event technology company Patron Technology.
Says Rick Weldon, SVP of client strategy for Patron Technology: "The Komo platform delivers interactive games and competitions that seamlessly integrate with Patron's fan engagement solutions for our clients.  We are eager to collaborate with Joel and the Komo team to maximize opportunities for our clients and their partners to connect with their fans."
Goodman Fielder, leading food company with some of the world's most widely recognised and trusted brands recently joined Komo's long list of Enterprise customers.
Says Leah Jackson, head of digital marketing at Goodman Fielder: "We are excited about the new Komo subscription as it allows our team and agency partners to create interactive, gamified content and competitions with speed and agility, without compromising on consumer experience."
Says Steel: "We're thrilled to be bringing Komo's capabilities to more brands and marketers by establishing our on-the-ground presence in the US, where a number of brands, events, sports and agencies are already using our platform with great success."